DIOPHARMA, an installation/dirt pill dispensary was mounted on a remote 40-acre site off Iron Age Road in Wonder Valley in California's Mojave Desert. 
Sitting cross-legged on a towel in front of a makeshift dioramic dry spa, Noorda made mineral supplement pills from samples of earth, plant material and fragments of built structures collected from two short-lived early C20th socialist colonies – one west of Victorville in the Mojave (Llano del Rio 1915-1918), the other in Bussum, a suburb of Amsterdam (Frederik van Eeden's Walden 1898-1907 [see INTERNAL COLONIZATION]).
Samples of the pills were displayed in plastic zip lock bags alongside large photographs of the ruined chimney stacks of the Llano commune together with sunburst shots taken from inside the chimney flue. Materials used in the installation included gypsum drywall, backboard, fiberglass insulation, wood and plywood: all staples of the US construction industry purchased from the Yucca Valley branch of Home Depot, the American DIY chain. Text signs on metal poles were dotted round the installation, marking out possible sites of overlap and contestation between private and communal space. 
The classic Early Man-type Natural History Museum diorama referred to in this piece is something of an honestly exposed illusion whereby the viewer's depth perception is manipulated so that the 3-D figures in the foreground appear to blend in with the painted backdrop. 
DIOPHARMA: installation/performance, Spectacular Subdivision group show presented in conjunction with Hi-Desert Test Sites and the University of California Institute for Research in the Arts, curated by Jay Lizo (Monte Vista Projects, Los Angeles), Wonder Valley, California, USA, April 4-6, 2014. 
https://www.montevistaprojects.com/past-1/2015/7/11/spectacular-subdivision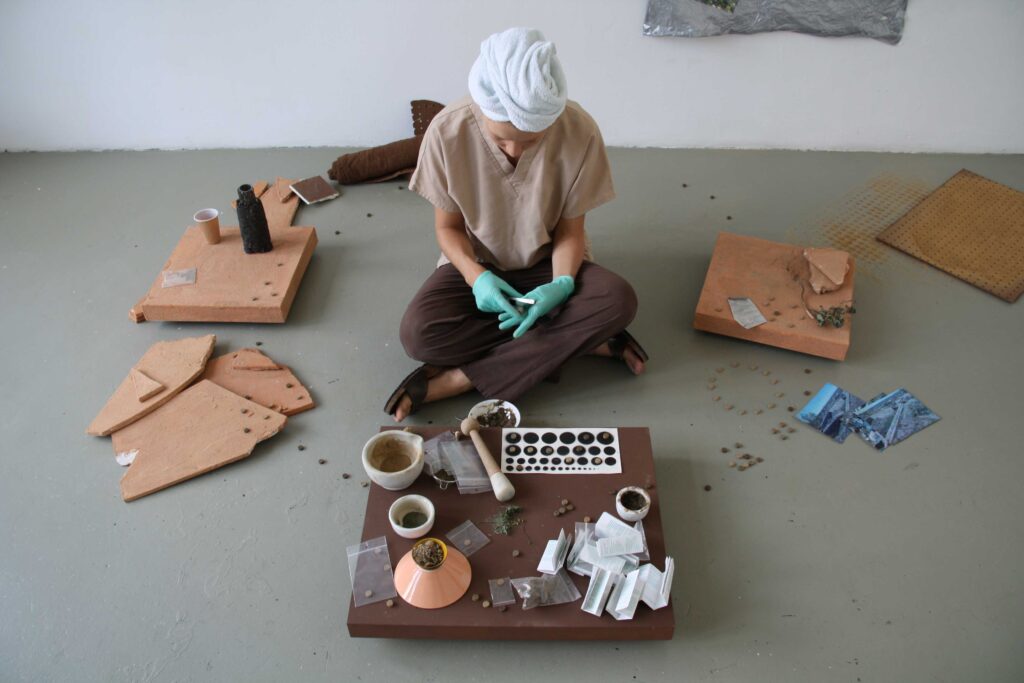 For her installation RX, the artist transposed/translated the DIOPHARMA pop-up pill dispensary/performance /installation from the windswept plein air desert setting to the cloistered white cube space of Amsterdam's Galerie van Gelder. By compressing detritus from the two commune sites into small circular discs, she set out to transmute the material foundations on which these social and spiritual experiments in alternative living once rested into portable easy-to-swallow medicinal tablets. These instant art-works, to be taken with water, come with a fact-sheet; a guide for overcoming the dualistic split between mind & body, the collective & individual aspects of being, the obstinacy of matter & the suppleness of intuition. Combining these earthly medications with personal photographs and material taken from magazines and shared by friends, Noorda created a kind of probiotic compost fed from a wide variety of data. This convocation of voices and ideas set out to short circuit the opposition between purity and danger by means of dirt and water. Noorda's installation revolves around questions of essence and seeks to activate that vital spark (élan vital) which she believes to be present in everyday material.