GROTTO_9KG DE OXIGÉNIO
GROTTO  was installed in 2019 in Uma Certa Falta de Coerência [A Certain Lack of Coherence], an independent artist-run project space on Rua dos Caldeiros (Street of Cauldrons), Porto's oldest street. The cave-like interior resembled a dank, airless crypt or labyrinth – five narrow conjoined rooms burrowing deep into the basement of an ancient row of shops.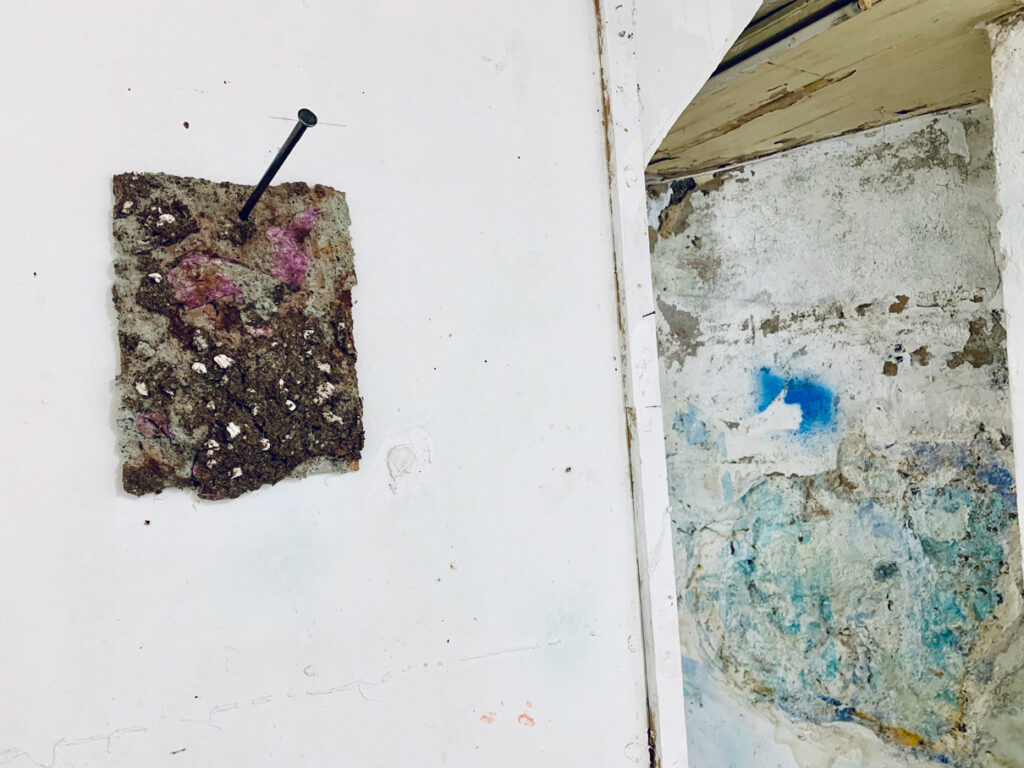 Cued in by the atavistic setting, Noorda sprayed Neanderthal emoticons – thumbs-up hand signs- directly on the decaying plaster and hammered spikes into the walls, some hung with abstract sculptures collaged out of debris. On the floor she cast a cracked concrete block altar inserting miniature devotional figurines- a plastic virgin mary, a witch, a venus de milo- inside the surface fissures. A block of raw clay and flints and stones found on the banks of the nearby river Douro were laid on the altar alongside miniature molded beeswax and soap body parts known locally as Promessas de cera (literally 'wax promises' representing answered prayers) purchased in a neighboring religious items store dedicated to the cult of Our Lady of Fatima.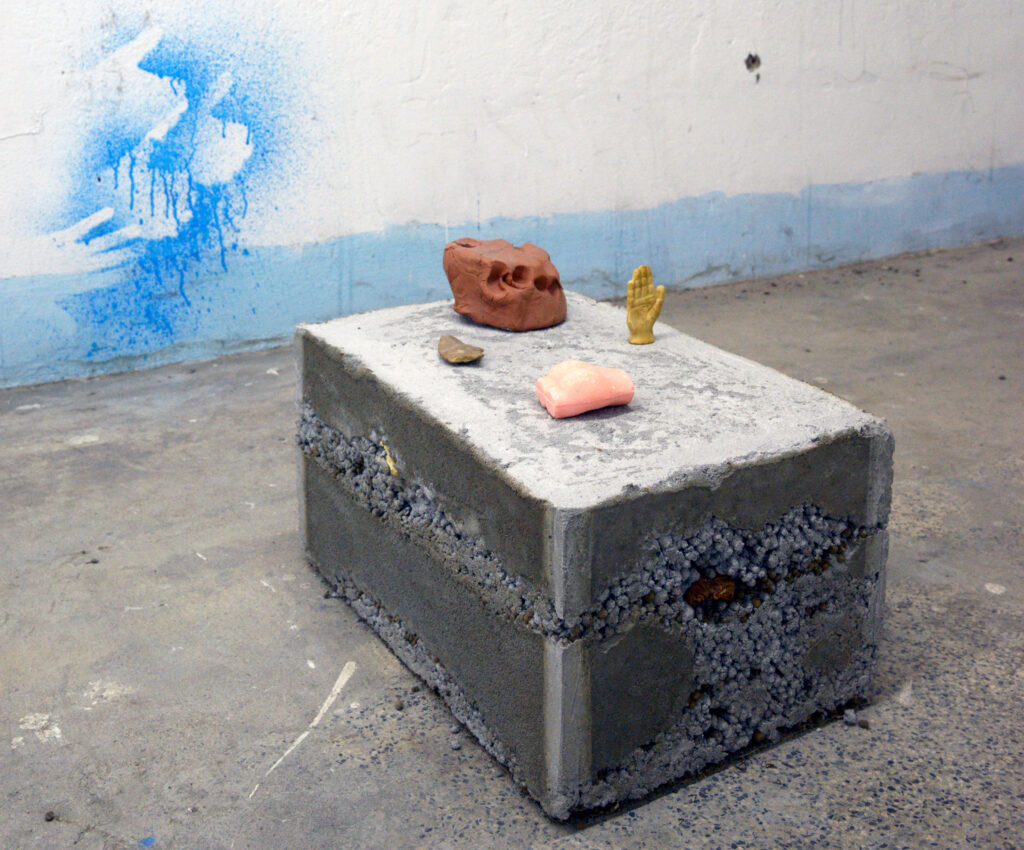 Another solid concrete block formed a second altar bearing a plastic Queen chess piece and rock and papier mâché devotional offerings. A video featuring the artist's flying Second Life avatar played on a loop inside one room. A charcoal drawing of three monumental trademark RX female figures standing with wrenches held aloft,  their internal organs visible and linked together with Chakra wheels – an allegorical rendering of bodies in need of repair – dominated the wall in the space's darkest recess.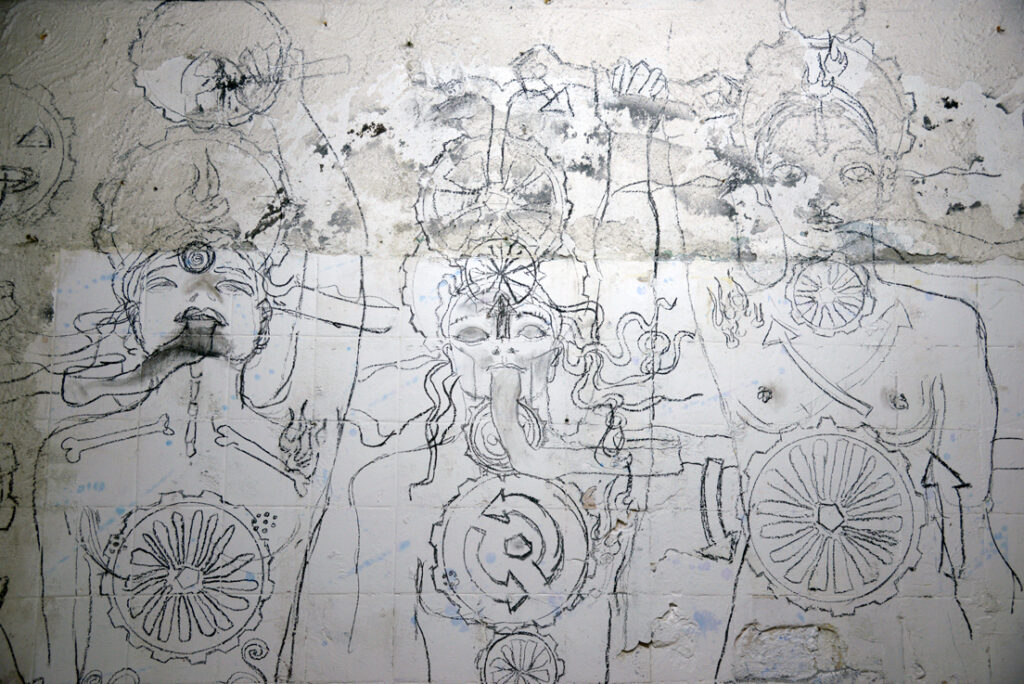 A modified version of the installation complete with stenciled panels and a deconstructed video camo-tent was included in 9KG de Oxigénio at the Galeria Municipal do Porto later in the year.
GROTTO: installation, Uma Certa Falta de Coeréncia, Porto, Portugal, April 5 – May 5, 2019.
https://acertainlackofcoherence.blogspot.com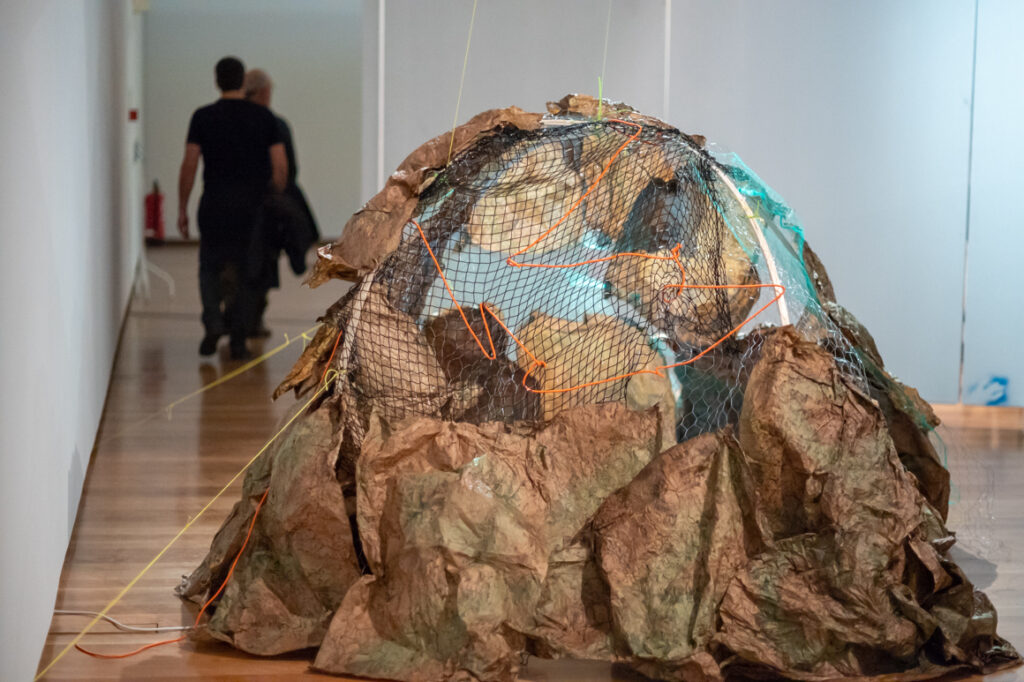 9KG DE OXIGÉNIO @Galeria Municipal do Porto with Uma Certa Falta de Coerência in Porto, Portugal. A group exhibition with:
Babi Badalov, Daniel Barroca, António Bolota, Camilo Castelo Branco, Merlin Carpenter, Rolando Castellón, June Crespo, Luisa Cunha, Stephan Dillemuth, Loretta Fahrenholz, Pedro G. Romero, Dan Graham, Alisa Heil, Mike Kelley, Ruchama Noorda, Silvestre Pestana, Josephine Pryde and Xoan Torres.
Untitled: installation, 9KG DE OXIGENIO, Galeria Municipal do Porto, Porto, Portugal, December 7, 2019 – February 16, 2020.
http://www.galeriamunicipaldoporto.pt/EN/exposicao/9kg-de-oxigenio-2019/