Shivalacrum


sculpture: hammered copper, copper piping, soap installed in the former bathhouse of decommissioned De Koepel prison building, Haarlem, NL
Built between 1899 and 1901, De Koepel was the last of three prisons in the Netherlands to be modeled on Jeremy Bentham's Panopticon principle, and inmates were still being housed in its four stacked cell rings till its closure as a prison in 2016. SHIVALACRUM was Noorda's contribution to Architectural Healing, an "art manifestation" to mark the official launch of Open the Dome, a major renovation/repurposing project made possible by the building's acquisition in 2017 by the Panopticon Foundation:
To go from a 'closed' to an 'open' attitude, De Koepel must first go through a mental, spiritual transformation. Time for an Architectural Healing!
exhibition press release
SHIVA LINGAM: in Hinduism is an aniconic representation of the Hindu god Shiva and is typically the primary murti or devotional image in Shaivite temples. It is a smooth, cylindrical mass and often rests in the centre of a lipped, disk-shaped object, the yoni which is an emblem of the goddess Shakti. …Together, the lingam and the yoni symbolize the merging of microcosmos and macrocosmos, the divine eternal process of creation and regeneration, and the union of the feminine and the masculine that recreates all of existence.
Merged entries on Lingam from Wikipedia and Encyclopedia, consulted12.3.2022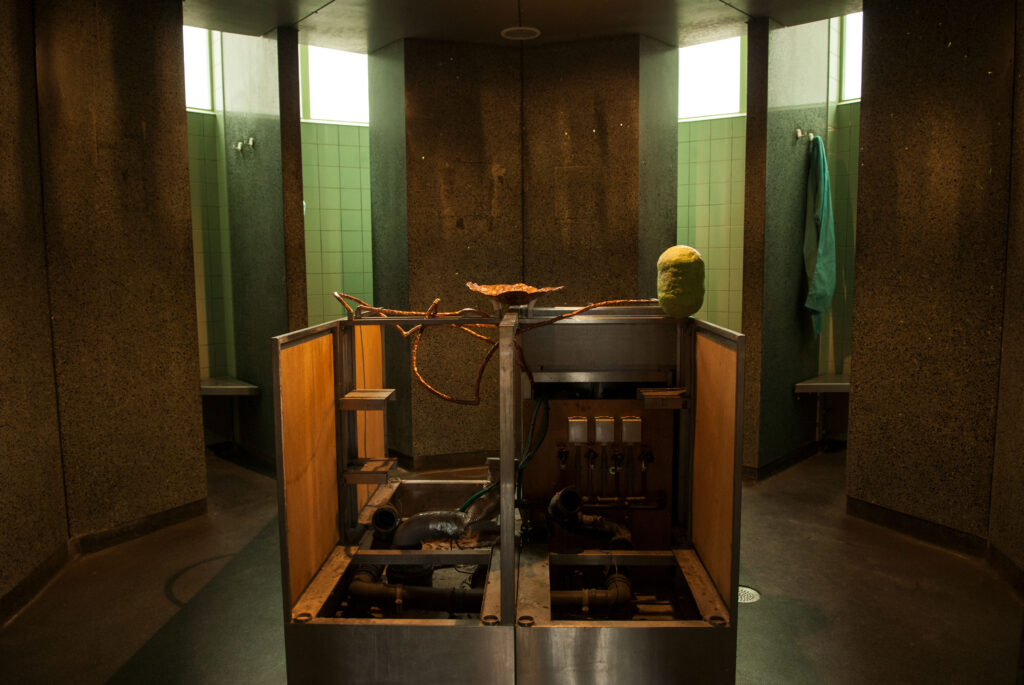 SHIVALACRUM: installation, Architectural Healing: Open the Dome, curated by Bastiaan Gribling and Noortje Tan, De Koepel, Haarlem, the Netherlands, October 6 – November 11, 2018.